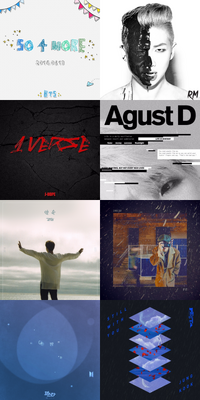 Below is a list of unofficial songs by BTS. Unofficial songs are released ONLY on music platforms such as SoundCloud, YouTube, their social media sites, Twitter, Blog, Daum Cafe, or sung live for concerts, events, etc.
Note to editors: If any of the listed song is released in a CD and/or Korean music platforms (MelOn, FLO, Genie, Bugs, VIBE and Soridaba) and/or Global music platforms (Spotify, Apple Music, iTunes, DEEZER, Amazon, Google Music, Orchard, TIDAL and Pandora) it has to be removed from this page.
List of mixtapes
A mixtape is a self-produced album by one of the members.
*The mixtape was made available on official music platforms in February 2018, only the songs listed aren't available.
List of songs
Original songs
An original song is a self-produced song, an unreleased song or a remix of a BTS song.
Songs released in studio version:
Songs exclusives to promoting a brand:

"

K'hawah 03: Rap Monster

" by RM (2015) (K'hawah)
"Run (Puma Blaze Time Ver.)" by BTS (2016) (PUMA Blaze)
"Family Song" by BTS and GFriend (SMART Family Love Day Campaign)
"

BTS X JESSI

" by BTS and Jessi (2016) (SK Telecom)
"

VarieT

" by BTS (2016) (SK Telecom)
"

Coconut Chicken Song

" by BTS (2017) (BBQ)
"With Seoul" by BTS (2017) (Visit Seoul)
"You're so Beautiful" by BTS (2018) (LOTTE Duty Free)
"The Earth Traveler" (지구별 여행자) by BTS, Got7, Twice, NCT, Red Velvet, N.Flying, MAMAMOO, NU'EST, Stray Kids, TXT, Oh My Girl, Astro, GFriend, Golden Child, WJSN, The Boyz, Chungha, Everglow, Monsta X, Apink, Seventeen and ITZY (Credited as All performers) (2019) (KBS Song Festival)
"IONIQ: I'm On It" by BTS (2020) (Hyundai)
"Over the Horizon" by SUGA (2021) (Samsung)

Songs only performed live:
Sampled songs
A sampled song is an original song with musical elements taken from other artists.
Songs released in studio version:
Adapted songs
An adapted song uses the musical elements of another artist's song but with original lyrics.
Songs released in studio version:
Cover songs
A cover song another artist's song recorded/performed by the members.
Songs released in studio version:
Songs only performed live:
Songs exclusives to promoting a brand: