This article is still a work in progress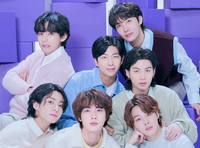 This article is slowly being improved for the benefit of all visitors. Please bear with us while improvements are being made. We apologize for the inconvenience this may cause in the meantime.

What's being worked on: A lot of features and events
Pages with this template are automatically sorted into this category.
PUZZLE STAR BT21 is a puzzle game developed by LINE Friends Corporation. This game was launched on Apple Store and Google Play on April 3, 2018.
LINE Friends PUZZLE STAR BT21 hits 1 million downloads in just 2 days after its release!
On April 5, 2018, it was announced that the game had reached 1 million downloads.[1]
PUZZLE STAR BT21, the first block & action puzzle game in the world released by LINE Friends, a global character brand, reached a total of 1 million downloads worldwide just 2 days after its release, and was placed 1st in the free popular games in App Store for Korea, Japan, Singapore, Thailand, and Indonesia.
PUZZLE STAR BT21 successfully captivates players with its cute space stars, the BT21 characters, a fun gameplay style that involves drawing specific blocks to clear the stage, and a unique story in which the characters embark on a quest for a legendary song that will help them become stars.
The game also provides a total of 91 costumes for the BT21 characters, which gives players strong motivation for collecting; it also provides an easy and fun playing environment where players can use several different items, which has expanded their player-base from their previous character fans to a broader age range. As the game's popularity grows, it's not hard to find a bunch of reviews like 'I lost track of time playing PUZZLE STAR BT21,' or 'BT21 characters are so cute,' spread all across social media.PUZZLE STAR BT 21 has 10 episodes, 170 stages currently released, and will be adding more new maps and stories through regular updates. They will also be releasing new character collections with a variety of unique costumes, so PUZZLE STAR BT21 is expected have an active and engaged play-base for quite some time. PUZZLE STAR BT21 is serviced worldwide including places like Korea, Japan, and the US, (though there are exceptions for certain countries) and can be downloaded via the App Store and Google Play.
Gameplay
The gameplay style involves drawing specific blocks to clear the different stages, collect more than ten different versions of each character, and a unique story in which the characters embark on a quest for a legendary song that will help them become stars.
Episodes
#
Name
Stages
Release
1
Class Room
1-17
April 3, 2018
2
Hideout on the Roof
18-34
3
Terrace Café
35-51
4
BT21 Practice Room
52-68
5
Train Station Platform
69-85
6
Park
86-102
7
Convenience Store
103-119
8
BT Singing Room
120-136
9
Bus Stop
137-153
10
White Snow Path
154-170
11
Cherry Blossom Path
171-187
April 20, 2018
12
Green Mountain
188-204
May 10, 2018
13
Seashore
205-221
June 1, 2018
14
Beachside Restaurant
222-238
?
15
Amusement Park
239-255
?
16
Haunted House
256-272
July 14, 2018
17
Sunset Park
273-289
?
18
Raining Street
290-306
?
19
Hot Spring
307-323
?
20
Ski Resort
324-340
August 28, 2018
21
"Shinjuku" Station
341-357
September 11, 2018
22
"Nanba" Street
358-374
?
23
"Hongik Uni." Street
375-391
?
24
"Yeosu" Night Sea
392-408
?
Videos
Gallery
Official Links
References