This article is still a work in progress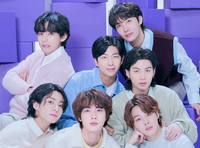 This article is slowly being improved for the benefit of all visitors. Please bear with us while improvements are being made. We apologize for the inconvenience this may cause in the meantime.

What's being worked on: Episodes
Pages with this template are automatically sorted into this category.
BTS Rookie King: Channel Bangtan (신인왕 방탄소년단-채널방탄) is a variety television series by the boy group BTS. The variety show features the members of BTS parodying different television programs and commercials.
It was premiered on September 3, 2013, and was broadcasted every Tuesday at 5 p.m. KST on SBS MTV.
Cast
Episodes
1
Episode 1
(1회)
September 3, 2013
BTS members showed their dorm and their everyday activities in VJ Bangtan Command. They also showed each of the members reaction in an Elevator Prank in Secret Bangtan Camera. The Rap-Line composed of RM (formerly known as Rap Monster) and SUGA and j-hope showcased their rapping skills while performing "Satoori Rap" in Bangtan GO SHOW. To find out who is the lucky and unfortunate member, they played End-plate: (Unlucky) King in a sauna house. And to end the episode, J-Hope gave away his personal item to a lucky fan through Bangtan Lotto.
2
Episode 2
(2회)
September 10, 2013
TBA
3
Episode 3
(3회)
September 17, 2013
TBA
4
Episode 4
(4회)
September 24, 2013
TBA
5
Episode 5
(5회)
October 1, 2013
TBA
6
Episode 6
(6회)
October 8, 2013
TBA
7
Episode 7
(7회)
October 15, 2013
TBA
8
Episode 8
(8회)
October 22, 2013
TBA