BT21 is a project of LINE FRIENDS CREATORS and BTS created on September 26, 2017.[1]
LINE FRIENDS X BTS = BT21
BT21 is the first project of LINE FRIENDS CREATORS. It's new IP created with the collaboration of LINE FRIENDS and BTS Rather than simply creating avatars of the physical appearance of artists, BT21 consists of 8 different charming characters created by BTS members, where all of them actively participated in the whole process from drawing sketches to elaboration.
Why BTS?
BTS, the first artist to join the 'FRIENDS CREATORS' Project, is a creator that shows a connection in terms of the global character brand LINE FRIENDS' keywords: Global, Millennials and Trending. BTS has a high popularity ranking and a strong influence in the world, and are great storytellers of our time who can share the story of 'development in IP'. They send encouraging messages throughout the world and has gone viral internationally. [2]
UNIVERSTAR BT21
UNIVERSTAR BT21 is the fictional world of the BT21 characters, family and friends, following the story:
Prince TATA from Planet BT, who had been traveling with VAN, crashed on Earth. In order to spread love, TATA decides to become a star. Finally, they have met six fascinating members: KOYA, RJ, SHOOKY, MANG, CHIMMY, and COOKY and together, they make 'BT21', and they are dreaming of becoming the most famous stars in the universe, THE UNIVERSTAR! Will BT21 become UNIVERSTAR, and spread love around?
Characters
BT21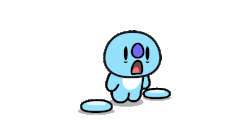 Exceptionally bright and talented KOYA. Sleeping cutie full of thoughts and thoughts of sleeping. #talented #pillow #droopyeyes #removableears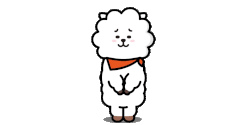 RJ loves to both cook and eat. RJ's fluffy fur and warm heart makes everyone feel they're at home. #greetings #gentlesoul #parka #omnomnom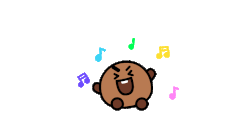 Tiny SHOOKY loves jokes, especially ones on friends. Milk is what SHOOKY hates the most. #fun #manyfaces #mini #CrunchySquad
When dancing, MANG is cooler than ever. Veiled under mask, MANG's true identity remains a secret. #Heartshapednose #mask #mystery #BestDancer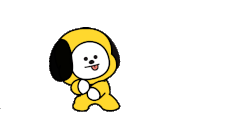 CHIMMY enjoys wearing a yellow hoodie, and is born with a passion to work hard on everything, no matter what. #passion #workhard #playhard #harmonica #yellowhoodie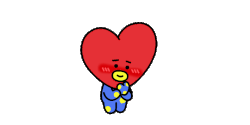 Prince TATA from planet BT, has a super stretchy body as well as supernatural powers. #PlanetBT #offthewall #superpowers #Prince
COOKY hopes to break out of the stereotypes from the cherubic appearance, and become tough. #unbalanced #eyebrows #heartbutt #imaginarymuscles
FAMILY & FRIENDS
Collaborations
A list of BT21 collaborations and the items created.
Dunkin Donuts: donuts, drinks and cups. (February 2018–present)
Monopoly: bags, notebooks, straps, notes, magnets, etc. (April 2018–present)
Olive Young: handcream, perfume body, towel hoodie, etc. (June 2018–present)
Mediheal: face point masks. (June 2018–present)
T-Money: money cards. (June 2018–present)
Paris Baguette: cakes, bread, desserts, ice creams, etc. (July 2018–present)
Incheon Airport: promotion of Incheon airport. (July 2018–present)
Converse: sneakers. (July 2018–present)
Facebook Messenger: stickers. (July 2018–present)
Hunt Innerwear: pajamas. (July 2018–present)
CGV Cinemas: tumblers. (September 2018–present)
10x10: retractable cables, selfie stick, powerbank, etc. (September 2018–present)
Anti Social Social Club: T-shirts, hoodies and hats. (November 2018-present)
Hello Kitty: T-shirts, hoodies, lunchboxes, dinner plates, etc. (May 2019-present)
Uniqlo: T-shirts. (June 2019-present)
CARAN D'ACHE: pens, cases, etc. (October 2019-present)
Vice Cosmetics: blush and highlighter duos, cheek tint, and eyeshadow palette, etc. (October 2019-present)
TIKTOK: stickers. (November 2019-present)
pinkfong's Baby Shark: music remix. (December 2019-present)
Bershka T-shirts and sweatshirts. (January 2020-present)
Trivia
BT21 is an idea made by Si-Hyuk Bang after the album Love Yourself: Her remains in the top 20 of the Billboard 200 four weeks after its release. [3]
BT21's eight cartoonish characters were inspired by drawings created by the seven BTS members, with one correlating to each member and the final one representing the band and its fandom, ARMY.[4]
BT21 has a game available on smartphones, which is named PUZZLE STAR BT21.
The BT21 characters are gender-neutral.
The fandom name for BT21 is UNISTAR
Videos
Gallery
| | |
| --- | --- |
| | To view the BT21 gallery, click here. |
References