NOTICE!!!
This article focuses on the mini-album BE.
For the era, see BE.

Be (stylized as BE) is the first self-directed and seventh mini-album by BTS. It was released on November 20, 2020 with "Life Goes On" serving as the album's title track. "Dynamite" was a pre-release and also used as a follow-up track during promotions.
The album debuted at #1 on Billboard 200, becoming BTS's fifth #1 on that chart.[1]
This album was the second best-selling album of 2020 in South Korea.[2] This album is currently the fifth best best-selling album in South Korea of all time.[3]
As of 2021, the album has sold more than two and half million copies.[2]
Editions
Deluxe Edition [CD+Photobook+Making Book+Lyric Poster+8 Photocards+Polaroid Photocard+Photo Frame+7 Postcards]
Essential Edition [CD+Photobook+7 Photocards+Random Photocard+Poster] (February 19, 2021)
Background
On April 2020, RM revealed that the group was already preparing for their next album [4] and SUGA shared that the members had decided who would be in charge of what part of the process.[5] On May 2020, Jimin revealed that he had taken on the role of music project manager;[6] meanwhile, V had taken the role of the visual project manager.[7] Later, Jin shared that he would be working on the album design along with SUGA.[8] On July 27, 2020, BTS revealed via VLIVE they would be releasing a new English single on August 21.[9] On August 2, 2020, Big Hit Entertainment revealed the new BTS single would be called "Dynamite".[10] On August 21, 2020, RM explained that "Dynamite" is an exciting and lighthearted song that they had always wanted to try. He added, "While producing songs, we had the thought that it would be nice to give energy to the fans soon, so we decided to shockingly release the "Dynamite" as a single before our new album (BE) in the second half of the year."[11] Later on August 2020, the members share ideas for the title track music video as the theme of the new song being: Life goes on. Jung Kook will record the members with a G.C.F style in a place like In the SOOP having fun and in contrast, staying in home (the members will record Jung Kook's scenes), also the staff will record them performing without an audience in their upcoming online concert Map of the Soul ON:E as part of the music video.[12][13] On September 28, 2020 at midnight KST, BTS announced via Twitter and Weverse that their new album would be titled "BE" and be released on November 20 at midnight EST (2 PM KST). According to the Weverse notice, "BE" will be released in a deluxe edition format and contains "the most 'BTS-esque' music yet" that imparts the message of "even in the face of this new normality, our life goes on."[14]
On October 19, 2020 Big Hit Entertainment release a group concept photo for the album.[15] From October 27 to October 29 BTS released letters of the members to ARMY on official Twitter and Weverse pages, inviting ARMY reply to BTS members with the hashtag #TO_BTS on Twitter.[16][17][18] At the same time, in Japan were placed billboards with QR codes promoting the album. The QR codes leads to different letters of the members written in Japanese. On October 30, Big Hit Entertainment revealed "Life Goes On" as title track for the album.[19] On October 31, Big Hit Entertainment revealed two concept clips, Reflection version and Mirror version.[20][21] From November 1 to November 7, Big Hit Entertainment revealed V, Jimin, RM, Jungkook, Jin, Suga and J-Hope concept photos along with a explicative audio by themselves.[22][23][24][25][26][27][28] On November 8, Big Hit Entertainment revealed a concept clip of Room version.[29] On November 10, Big Hit Entertainment revealed the tracklist.[30] On November 13, Big Hit Entertainment revealed "Life Goes On" credits.[31] On November 17, Big Hit Entertainment revealed the first teaser for "Life Goes On" music video.[32]
Promotion
On November 6, 2020, Big Hit Entertainment shared that SUGA previously underwent surgery to repair his torn shoulder labrum on November 3, 2020. He decided to receive surgery in preparation for his mandatory military service as well as his career afterwards, and the decision was made after extensive discussion with the agency. As a result of the surgery, SUGA would be unable to participate in some activities, which may include promotions for this album.[33]
Tracklist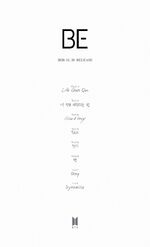 Life Goes On Title
내 방을 여행하는 법 (Fly To My Room) (song by SUGA, j-hope, Jimin and V)
Dynamite Pre-release and Follow-up
Audio
Personnel
Personnel adapted from progress updates videos and the lyric poster of the physical album.
Music and lyrics
BTS – primary vocals
Others
Adora – background vocals (track 5)
Antonina Armato – songwriting (track 1)
Arston – production (track 7), songwriting (track 7), keyboard (track 7), percussion (track 7)
Bob Horn – mix engineer (track 2)
Brasstracks – production (track 6)
Chris James – songwriting (track 1)
Conor Rayne – additional drums (track 6)
Cosmo Liney – bass (track 2)
Cosmo's Midnight – production (track 2), songwriting (track 2)
David Stewart – production (track 8), songwriting (track 8), drums (track 8), percussion (track 8), bass guitar (track 8), synth bass (track 8), synthesizer (track 8), pads (track 8), piano (track 8), electric guitars (track 8), programmed horns (track 8), programmed strings (track 8), background vocals (track 8)
DJ Friz – scratch (track 6)
Duane Benjamin – vocal orchestrator (track 2)
El Capitxn – production (track 5), songwriting (track 5), keyboard (track 5), gang vocal (track 5)
Erik Reichers – recording engineer (track 2)
FRANTS – gang vocal (track 5)
GHSTLOOP – co-production (track 6), songwriting (track 6), keyboard (track 6), synthesizer (track 6), programming (track 6), additional drums (track 6), gang vocal (track 5), digital editing (track 2, 6)
Hiss Noise – production (tracks 3, 5), songwriting (tracks 3, 5), drums (track 3), synthesizer (tracks 5), gang vocal (track 5), recording engineer (track 5), digital editing (tracks 3, 7)
Ivan Jackson Rosenberg – songwriting (track 6), keyboard (track 6), guitar (track 6), bass (track 6), programming (track 6)
James F. Reynolds – mix engineer (track 7)
James Keys – background vocals (track 2)
Jenna Andrews – vocal production (track 8)
Jessica Agombar – songwriting (track 8)
Ji Soo Park – production (track 3), songwriting (track 3), guitar (track 3), piano (track 3), string/clarinet (track 3), drums (track 3),
Joe Femi Griffith – songwriting (track 2), background vocals (track 2)
John McEwan – gang vocal (track 7)
Johnny Thurkell – live horns (track 8)
Josh Gudwin – mix engineer (track 1)
Juan "Saucy" Peña – vocal engineer (track 8)
Jung Woo-young – gang vocal (track 5)
Kevin Lewis – mix engineer (track 6)
Lee Yeon-su – recording engineer (track 2)
Levi – production (track 3), songwriting (track 3)
Marie Ortinau – gang vocal (track 7)
Matt Thomson (ARCADES) – gang vocal (track 7)
Max Lynedoch Graham (ARCADES) – gang vocal (track 7)
Metaphor – songwriting (track 3)
Nobody – Bass (track 5)
Patrick Liney – keyboard (track 2)
Pdogg – production (track 1), additional production (track 6), songwriting (tracks 1, 6), keyboard (tracks 1, 6), synthesizer (tracks 1, 6), programming (track 6), vocal arrangement (tracks 1–3, 5–7), rap arrangement (track 1), recording engineer (tracks 1–8), digital editing (tracks 1, 5), mix engineer (track 4)
Randy Runyon – songwriting (track 6), guitar (track 6)
Revin – digital editing (track 5)
Ruuth – songwriting (track 1), background vocals (track 1)
Serban Ghenea – mix engineer (track 8)
Son Yoo-jeong – recording engineer (track 5)
Stewart Brock – gang vocal (track 7)
Summergal – gang vocal (track 5), digital editing (tracks 2, 6–7)
Slow Rabbit – gang vocal (track 5)
The Singingforbonez Singers (Kenna Ramsey, Meloney Collins, Dedrick Bonner, Loren Smith – choir (track 2)
Yang Ga – mix engineer (track 3, 5)
YOUNG – guitar (track 5)
Artwork and packaging
BTS – concept photos curators
Ahn Jong Hun – artist management
An Da Sol – artist management
Bona Kim (MU:E) – art director
Cha Yeon Hwa – visual creative
Choi Doo Soo (DS LIGHT) – gaffer
Eunki Kim – 2nd AC
Hyunwoo Nam (GDW) – director of photography
ilho Heo (MU:E) – art-team manager
Jihye Yoon (Lumpens) – assistant director
Jinsil Park (MU:E) – art director
Jung Yu Jin – lighting crew
Kim Dae Young – artist management
Kim Ga Eun – visual creative
Kim Jun O – lighting crew
Kim Shin Gyu – artist management
Kim Su Bin – artist management
Kim Sung Wook – lighting crew
Kyuwon Seo – 3rd AC
Lee Hyeon Ki – artist management
Lee Hyunsu – lighting crew
Lee Jung Min – artist management
Lee Seong Min – lighting crew
Lee Seung Byeong – artist management
Lee Sun Kyoung – visual creative
Minjung Kim (MU:E) – assistant art team
Nu Kim – visual creative
Park Jun Tae – artist management
Sabinne Cheon – visual creative
Sangwoo Yun – focus puller
Yeri Kang (MU:E) – assistant art team
Yong Seok Choi (Lumpens) – assistant director
Yun Tae Woong – artist management
Videos
Records
Trivia
Gallery
| | |
| --- | --- |
| | To view the BE gallery, click here. |
References